I love having flowers or plants around the house all year, even if they are fake. Let's be honest some of them actually look pretty real anyway. I have seen the mason jar sconces all over Pinterest and wanted to do something similar for awhile. I decided to think outside of the box and put a little twist on this project. I had the frame for awhile, but it was not being used. It was a handmade jewelry holder for awhile, but the wire in the middle that held the jewelry, and the backing, got ruined during our move. I really loved the frame though, so I kept it, waiting for the perfect opportunity to repurpose it!
What You Need
1. Old Frame (check thrift stores, yard sales, or even Home Goods if you can't find a used one)
2. 2 small mason jars
3. Burlap ribbon
4. Some sort of flower, plant, or greenery (fake or real)
5. Hot glue & thumb tacks
6.
Crafting wire
7.
Command velcro picture hanging strips
1. Take your two mason jars and wrap some pretty burlap ribbon around them. Secure with hot glue.
2. Take your wire and wrap it around the bottom of the lip where you would screw on the lid, two
times. Twist the two ends tightly several times. Next, make a loop with the one end and wrap the
other end around the loop several times. This is how you will hang the jars. *Note: Make sure that
your wire is wrapped around the jar really tight and twisted several times to keep it secure from
slipping off.
3. Find where you would like to hang your frame and apply the command velcro strips to the back.
When you are ready to hang, peal the plastic off of the strip that will stick to the wall and press
firmly to the wall for 30 seconds.
4. This last part is the easiest. You want your two vase jars to be staggered on an angle, one at the top
left and the other on the bottom right. I just eyeballed it, by holding the jars up where I wanted
them to hang, and then I took a thumb tack and pushed it through the wire loop that was attached
to the jar. That's it! Add some flowers and your done!
What I love most about this is that it's different! It's simple, but elegant, and you can change out the flowers whenever you want to coordinate with each season!!
I linked this home project up to T
atertots and Jello
for their Linky Party Palooza that takes place every Friday! Click the picture below to link up your project and check out some of the other awesome bloggers who have linked up theirs!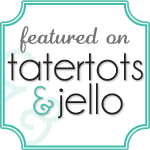 Happy Friday & Many Blessings,
Save
Save