Whoever thought that old book pages would look so good! I saw my first ever book page project, done by a blogger that I follow. She created a wreath made of old book pages. I was taken back at how beautiful it was and I could not believe that it was made from old book pages. It actually looks like a huge dahlia, which is my favorite flower. I decided to create my own, just like hers, and now I want to share how to make one with you!
What You Need
1. Old Book 8 inch length & 5-6 inches width. You don't want the pages to big or the wreath won't
look right (try your local library book sales, estate sales, or yard sales).
2. Hot glue
3.
Straw wreath
for your base
4. Scotch tape
5. String to hang from the top
6. Command velcro strip to secure the bottom of the wreath to the wall
Step by Step
1. I want to start off by saying, that this is more than a one day project. It took me several days to
complete. However, I did not try to complete it in one day. I needed to take breaks, because of my
son. If you have a large chunk of time, you might be able to complete this in one day. First, you
need to rip out a lot of pages from your book. Even when you think you have enough, rip out some
more.
2. Next, you want to start to roll them to form the cone shape. Be careful that you don't roll the page
straight down or you will just have a rolled up piece of paper that looks like a tube shape. You need
to start with one of the corners and roll up on an angle. This will create an open look with a longer
back and a shorter front. You want the end to come to a point and the top to be open. Once you
have it rolled properly, tape it in place. Do this to all of your pages.
3. Before you start to glue your pages on, tie a string at the top of your wreath. I first glued a row of
petals to the back side of the straw base wreath. I made sure to glue the very tip of the pointed end.
These will be my longest petals. I then started to glue rows on the inside of the wreath. I made sure
to move where I was gluing the pointed end to, in just a little bit, so that it was a little shorter than
the ones I glued to the back. You may have to over lap some of the petals as you go. You want to
have more than less. See the top photo, to get an idea of how I staggered the petals. Every row I
created, I made sure that it was a little shorter than the row behind it. If you don't do this, you will
just be gluing one on top of the other and will not get the layered affect. Think of an actual flower.
The petals get shorter as you get to the center.
4. You will get the point where you can't really layer/stagger the petals on top of each anymore. You
will have to start filling in the holes by gluing the petals in straight up an down. For example, if
you look at your wreath while it is flat on the table, being assembled, you will see that the outer
rows are glued on their sides. As you you move up and towards the center, they need to be glued
more straight up and down. You will need to add glue to all sides so that the petals won't fall
through and will connect to the other petals around it. I know that it sounds complicated, but as
you start to glue them, and piece it together, it will make more sense. You will see that center
petals just fit better in different spots.
5. Once your wreath/flower is completed, carefully hang it on your wall. Be careful when you pick up
the wreath. Some of the petals on the back may flop down, because they are only glued at the very
end point. Once it is up, you will need to add a Command velcro strip to the back of your wreath,
at the bottom. This is so that it doesn't pull away from the wall. You want the back of the wreath to
lay flat against the wall.
I hope that I did not confuse you too much with my instructions. Please feel free to leave me any questions that you have in the comments section. This is a long and tedious project, but I promise that it will be worth it! Happy Friday!
I linked this home project up to T
atertots and Jello
for their Linky Party Palooza that takes place every Friday! Click the picture below to link up your project and check out some of the other awesome bloggers who have linked up theirs!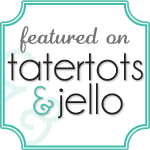 Many Blessings,